Posted in Features, News on Jun 07, 2022.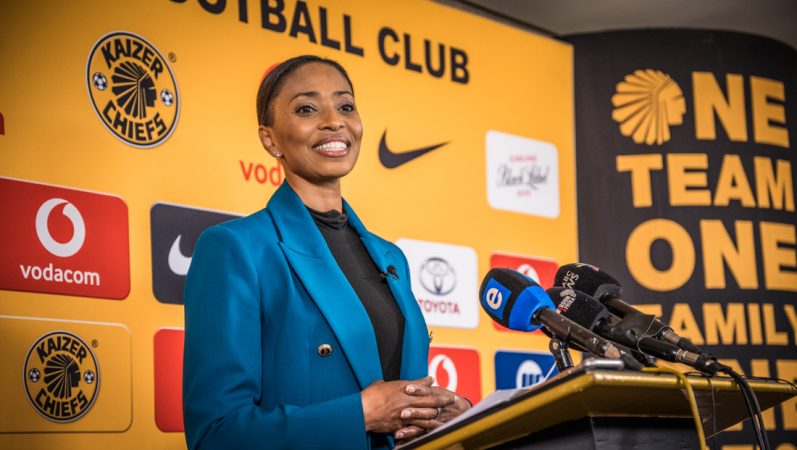 Kaizer Chiefs Marketing and Commercial Director Jessica Motaung graduated from the SuperSport Industry Leaders Programme, conducted in conjunction with the Gordon Institute of Business, at their campus in Illovo, Johannesburg on Thursday afternoon.
The Chiefs Marketing Director was part of a group of 18 hand-picked candidates identified as the future of sports administrators in the country to participate in the programme.
They were given key skills in areas such as the fan experience, transformation and broadcast.
"It was a very reflective process and one that built in me in various ways. I got to undertake many physical and other journeys during this time. There are many lessons I bring back to the Village at Naturena with me," Motaung said after her graduation.
During the course, the group recently went to San Francisco in the United States, where they interacted with the San Francisco Giants Baseball team and Golden State Warriors NBA Basketball Franchise. These visits were conducted in conjunction with the University of San Francisco, a partner of the prpgramme.
Of these Motaung added, "we learnt a lot in the United States and this is where we got to see how valuable the fan experience is to a team. We have a lot to implement here for our fans locally to duplicate these and to build a stronger bond and to keep on bettering the game day experience for our fans."
Motaung also enjoyed the opportunity to work with other sporting codes and representatives from the South African Rugby Union, University Sports South Africa, Cricket South Africa, South African Institute for Drug Free Sports and a number of provincial Rugby Unions, including the Sharks and Vodacom Bulls.
There were also a number of SuperSport employees, Premier Soccer League staff and representatives from other top flight clubs who were part of the course.
"We had a Springbok World Cup winner with us in Bryan Habana and a wide range of very motivated and highly enthusiastic and forward-thinking individuals in our programme. Together we will interact and work to ensure that we plan a way forward for the betterment of the sports industry in the country," Motaung said of the unique experience.
SuperSport CEO, Marc Jury, commenting on the graduates and the programme said: "We handpicked 18 people with the federations who we believed would be able to make bold decisions for sports in South Africa. We will continue building with this same group and will be looking to extend this programme with them, as we believe these candidates are the right people."
For her final presentation on transformation in sport Jessica was part of a four-person team made up of Wafeekah Begg Jassiem, legal manager for the South African Institute for Drug Free Sport, Yusuf Jackson, Competition and Tours Specialist: Amateur from the South African Rugby Football Union and Edgar Rathbone, the CEO of the Vodacom Blue Bulls Rugby Union.
"I had a very well- balanced hardworking group, with everyone doing their best to ensure that we had a very well put together presentation on a very important topic for the sporting landscape of our country," said Motaung, adding that "transformation is an especially important issue in our country and with the experience from members in my group on the issue we were able to point out the areas of work, as well as the solutions, which will lead to meaningful transformation in SA sport".
Jessica was also grateful to have been given the opportunity, extending her gratitude for being included in this special group of sporting leaders.
"Thanks to Marc Jury and SuperSport for having me on board, also the Premier Soccer League and our Club Chairman Kaizer Motaung for giving me the time off in a busy period to be able to go through this programme and see it to the end," said Motaung.
Kaizer Chiefs would like to congratulate Jessica and her peers for graduating from what was a very intense nine-month course which began in October last year.