Posted in News, Team News on Nov 28, 2019.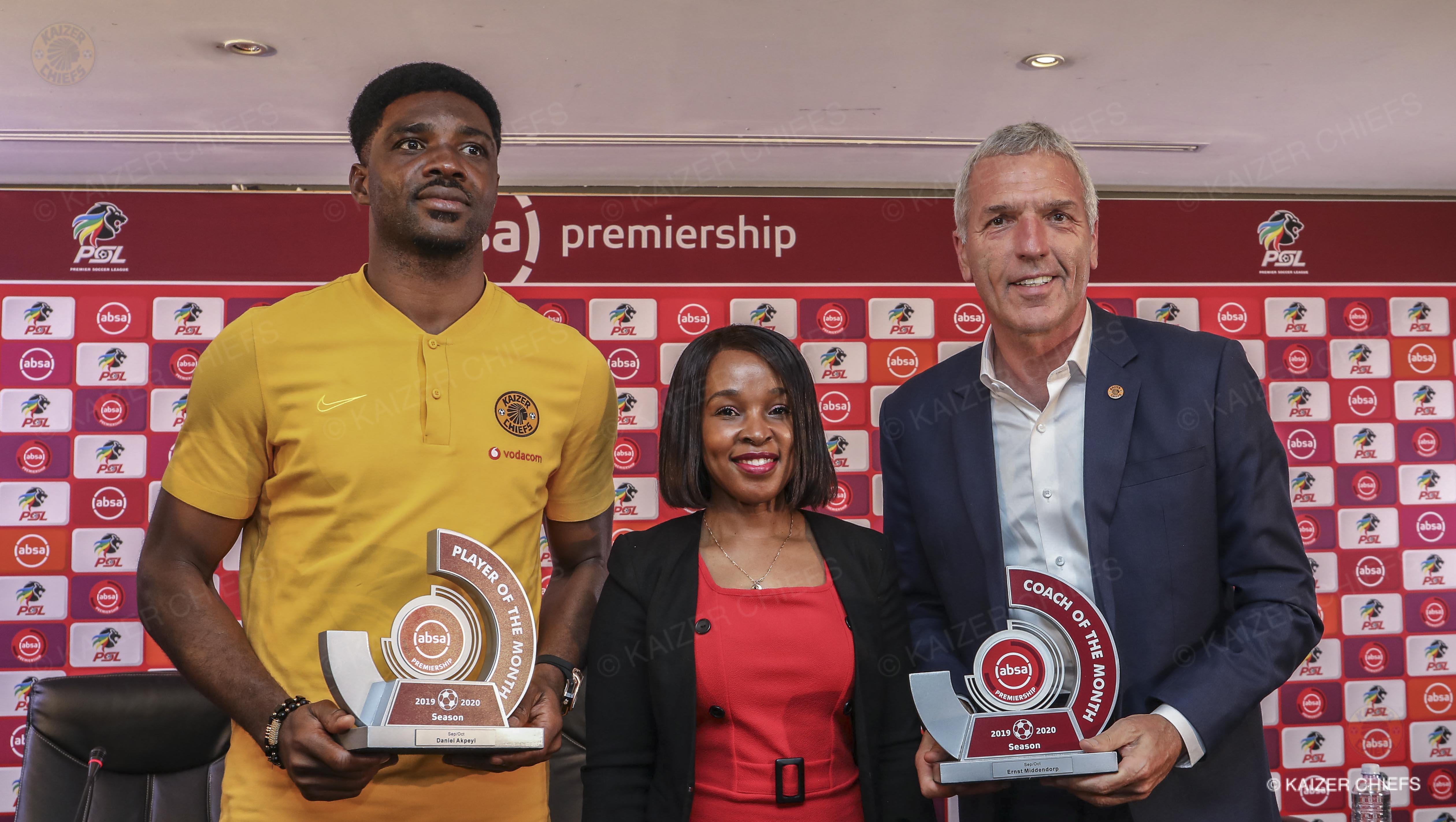 Kaizer Chiefs coach Ernst Middendorp has been rewarded for Amakhosi's strong start to the 2019/20 season winning his second Absa Premiership Coach of the month award for the new campaign. He was named as the league's top mentor for August and now managed to win the award for the best coach for September/October.

Amakhosi who played five league games in this time had a major turnaround in fortunes after a 1-0 home loss to Polokwane City on the 14th of September, which was also Chiefs first and only loss of the season as they then won their next four league games in this period.

Speaking at the PSL offices in Johannesburg where the ceremony was held Middendorp said when asked about how Chiefs picked themselves up after losing to Polokwane City: "The reaction of a team after they have suffered a loss is very important. Just like we did after Sunday's loss to Maritzburg by winning against Stellenbosch. When we lost to Polokwane City, the team came back strongly, and we have done well in the league since then. The reaction to the loss was positive and it has helped us."

Chiefs recorded successive victories over Amazulu away from home winning 2-0 on the 24th September and defeated Baroka 1-0 at home, which was their first ever home league win over the Limpopo based outfit on the 28th September.

Amakhosi then kept their third successive clean sheet when winning their third league game in succession a 2-0 home triumph over Golden Arrows on the 1st October. This victory saw Chiefs end a five-game winless run against Arrows in league games. It was also Chiefs' first home league win over Arrows since November 2015.

Middendorp praised his players and technical team for navigating through a difficult time in September and October, which saw Chiefs having to dig deep into their squad as a result of injuries.

"Everybody working with the team is a recipient of this award. My technical and coaching staff, all the other support staff and the players, everybody has had a role to play in our success and this is recognition to all of them and the club as a whole," says the German mentor.

A top of the table clash against Mamelodi Sundowns which again resulted in a 2-0 win for Chiefs, this time at Loftus Versveld on the 27th October, rounded off a good period for Chiefs where the Amakhosi managed to win four of a possible five league games and collected 12 of the 15 points on offer.

On winning his second Absa Premiership coach of the month award for the 2019/20 season a delighted Middendorp intones: "I think we have to look back and see where we were a few months ago. We ended last season in ninth place and what we have achieved since then is phenomenal. We brought in new players had players return from injury and everyone has done very well. That is why we as a team are receiving this recognition."

Prior to the current season, Middendorp had won the award of coach of the month just once previously in December 2005 during his first spell as Amakhosi's coach.