Posted in Features, News on May 02, 2017.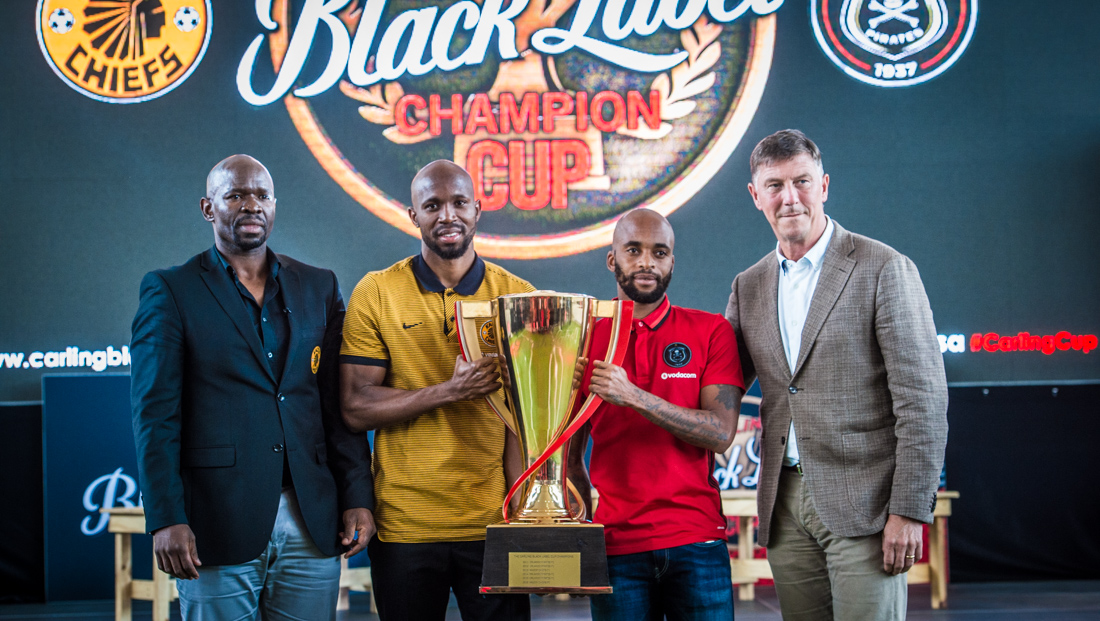 "Power to the fans," Kaizer Chiefs defender Ramahlwe 'Rama' Mphahlele said at the launch of the 2017 edition of the Carling Black Label Champion competition. The launch for the seventh edition was held today at Johannesburg's Park Station with a higher level of innovation in taking the coaching experience to the next level.
This year's Carling Black Label Champion Cup game will be held on Saturday, 29 July, at FNB Stadium (kick-off is at 15:30).
Consumers will be able to engage with the campaign for free on the USSD platform this year.
And, to entice fans even more, one will not only be able to select their starting line-up, but will now be able to further entrench their coaching abilities by selecting their preferred tactical formation.
The four options provided to the fans are the following: 4-4-2, 3-5-2, 3-4-3 and 4-3-3.
South African soccer legends Benni McCarthy, Shaun Bartlett and Marks Maponyane spoke at the launch about the various formations.
"The formation is the structure, the foundation of how you want to have your side play the game," former Amakhosi striker Bartlett explained.
Chiefs coach Steve Komphela, however, later on reiterated that "the tactical formation always depends on the players you have. And you have to work on the implementation of it as well."
Komphela was accompanied at the launch by Mphahlele and former Glamour Boy, Arthur Zwane.
'Rama' expressed being happy about the plan to give more power to the fans to not only chose the starting XI, but now also the tactical formation.
"Supporters are the bosses," the Chiefs right-back commented, "if they want to play with four wingers, they can now decide to do this."
Consumers who are over the age of 18 can stand a chance of winning the Carling Champion Cup match day experience where two lucky fans will join their favourite team in training, sit in the pre-match briefing and be part of the technical set-up on match day.
They can do so by purchasing a Carling Black Label beer and dialing
*120*660
. They then enter their unique 'underline code' (to be found on the bottle cap) and then press #. Entry is free. They can also go to
www.carlingblacklabel.co.za
Ticket sales for the 2017 showpiece have opened and are available at Computicket and Shoprite/Checkers stores or at
www.computicket.com
. Unreserved seating at Level 5 at R70, Level 1 at R100 and reserved seating on Level 2 at R170.
In the history of the Carling Black Label Cup, Kaizer Chiefs have won twice, while Orlando Pirates have won four times. Amakhosi, however, won the 2016 edition.