Posted in News, Team News on Dec 11, 2021.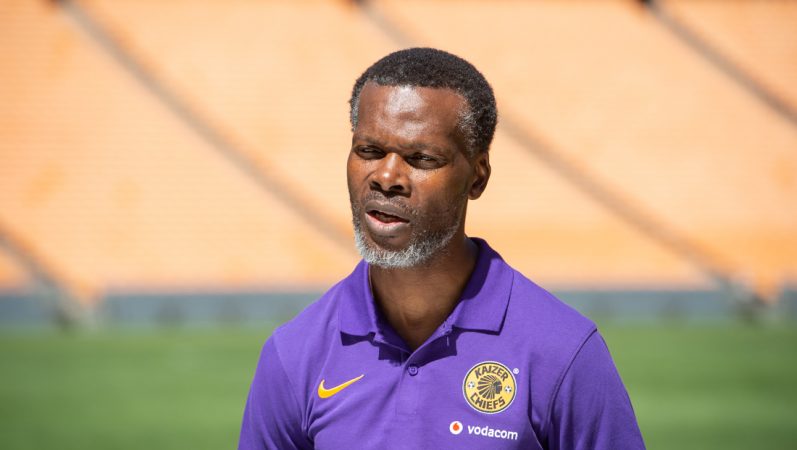 Kaizer Chiefs are back in DStv Premiership action this weekend after what assistant coach Arthur Zwane has described as a "very difficult fortnight" for all at the Kaizer Chiefs Village after a major Covid-19 outbreak that saw the team unable to play two matches.
After Chiefs were unable to feature in league games against Cape Town City and Lamontville Golden Arrows, the team will be back in action on Sunday when they host Sekhukhune United at FNB Stadium at 18h00.
Chiefs returned to training this week and have slowly resumed their regular programme. Before the Sekhukhune clash, Zwane says Chiefs have been coping while dealing with a pandemic.
On Challenging Times:
It is a bit complex from our side. It has been a very difficult fortnight because we have had players who have not been coping with the situation that we find ourselves in. We are trying our level best as the technical team and the Club to try and manage the situation. So far so good – knowing that we are dealing with a squad that has various challenges. We hope the rest of the affected people will recover sooner rather than later because we need them here.
We are looking forward to the game against Sekhukhune. We have had players that started training from late in the week and it's like starting from the beginning again. The sessions are called return to training and we are checking to see if they are coping physically. In the first and second sessions they struggled. Most of the guys are not ready to play 90 minutes. It's a case of trying to manage match minutes, so that they can all share the load. We will try and balance the squad so that the playing time can be shared. The good news is that over the course of the week more players have been returning to the team from isolation.
Adapting to the situation:
We are trying to get the combinations right. More than anything else, it's a matter of trying to see if they cope, because we will have a team of players who have not been featuring regularly. Guys like Leonardo Castro and Siyabonga Ngezana will get some game time after they have had long term injuries. We are glad to see them back and other players who have not featured week-in and week-out will also get to play. The only suspended player we have is Cole Alexander. Njabulo Blom is coming back from suspension. They have been returning in drips and drabs. The technical team has been supporting them and also working on different combinations and the chemistry.
A long way to go:
We still have a very long way to go. Even the log leaders Sundowns will drop points. They have been good, but it does not mean the league is over. It will be close this season. There will be some teams that will rise to the occasion. Sundowns will have Champions League games but having said that, they do have a strong squad. But playing in African Competitions will test them and they will have challenges like the rest of us. I think in the last five games of the season, we can have a clearer idea as to who the favourites will be – but right now there is still a lot to play for. Teams can stumble and find it difficult to be consistent towards the end of the season. Every game is difficult. We will see how it goes and we will give it our best shot to ensure that we are within the top three come the end of the season.
On Sekhukhune:
Sekhukhune are second on the log and they are not there by fluke. They work hard for each other and they have some good individual players in their team – one of them is Prince Nxumalo. They are a team who defend deep, looking to catch you on counterattacks. They have very quick players; they are fast in transitions and they are a very well-structured team. They have players who are not scared to take on the opposition in one on one situations. They also have the ability to play in good crosses into the penalty box. We will be ready for the threat that they pose.
On facing Willard Katsande
We are playing against Willard Katsande, a former Chiefs player. He has a never-say-die attitude. Having him there suits their playing style. They work hard and grind out results. We have a plan for them and their coaches, who have great insight and good football brains.